Wednesday, September 26, 2007
Wow, another month has flown by. The rumors and whispers that I am hearing are hard to listen to but I keep holding on to the fact that when the time is right and all the planets are align we will have the child that belongs to us (kinda Corny I know but its what helps me get thru all this.)
As Always Be Good & Be Safe
Labels: LID-versary
Tuesday, September 25, 2007
Ladybug sightings
I have been meaning to post these picture for awhile. About 3 months ago I received a phone call from my G/F Anne telling me she had a little gift for me and to drive out with Andrew on Friday night to get it. Since Stew-be bowls not to far from her house I went and when I walked in she gave a me a wrapped present and this is what it was............

A ladybug cookie jar, to cute.
Then last weekend when Andrew went to see his parents his mother said she was sending something for me home with Andrew. Having no clue as to what it was I had to wait till he walked in at 11pm to find out what treasure was being given to me. He handed me the bag and here is what it was.........

As Always Be Good & Be Safe

Labels: nik nacs
Monday, September 24, 2007
Oh what a Night........................
OMG we survived the wedding. The weather was beautiful, sunny and warm, but not to warm (although we were all sweating, not sure if it was the weather or nerves.)Kerri came home on Thursday night to sleep after her rehearsal dinner. The dinner was great, it was held at a country club a few towns over and the sunset out over the Great South Bay was breath taking.
On Friday morning Kerri,Andrew & I got up and had a cup of coffee out on the deck and enjoyed the peace and quiet before the day began.
At 9am Kerri and I went to the local Beauty shop to start and get ready, I had just my hair done & Kerri had her make-up and hair done. I left after my hair was done to finish up some last minute things. Kerri came back home around 12:30 and I put a spread of food out for the girls were coming to our house to get ready so we had a bite to eat. At 1:25 the first photographer showed up (not suppose to be here till 2pm so it was a mad dash to start and get Kerri into her dress. By 2pm her other photographer was here as were her whole bridal party and my sister, her husband and kids (and I still wasn't dress. Saorla & Fianna were Aunt Kerri's flower girls. At 3pm Kerri's godparent arrived, photos were taken and the limo got here around 3:35. We left the house around 3:50 and drove to the church (we did stop once, when Kerri stopped at the local 7-11 to get a 6pack of beer(Uncle Bill put her up to that) I wish I had my camera with me at that point it was funny to see all the people doing double takes as she walked into the store. We arrived at the church a few minutes after 4pm. As I was walking down the long aisle of the church where Andrew & I got married almost 19 yrs ago, where my baby sister was baptised almost 34 yrs ago and where we buried my dad from 5 yrs ago I had tears in my eyes.Pete is a volunteer fireman for his home town so the department was there with their trucks and did a arch as they walked down the steps from the Church. The reception was held at a old mansion (again on the Great South Bay) and I can't wait to see the photos that were taken by the Photographer on the lawns and around this great building. (It was really hard for me to give up control of my camera during a family function but being the maid of honor I couldn't also be taking pictures like I normally would.) I can not say enough nice things about the reception from the place to the food to the courtesy of the staff, everything was OUTSTANDING.Bagpiper's played in honor of out heritage and belly dancers dance for Pete's side.The music was a bit too loud (I may be getting to ole) but there was a terrace right off the ballroom with tables and chairs set up to sit out and enjoy the evening.
Granny Annie, Andrew & I got home about 1:30 on Friday evening from the wedding and I was in a shower @ 2am to get all the hairspray out of my hair.
Pete's family had a brunch the next day that Andrew & I couldn't make (had way to much running around to do). They left this morning for their honeymoon in Aruba(Andrew met them at the gate and sat with them while they waited for the plane to leave) and this afternoon she called to let me know they arrived safe.
Now hopefully life can return to normal.............
As Always Be Good & Be Safe.

Labels: family
Thursday, September 20, 2007
Wednesday, September 19, 2007
Truer words have never been spoken
.........
With the wedding just days away and a million things still left to do, things are not going my way but then it never does and I am use to it but I am getting really beat this time around. It all started last Friday when I received a phone call from my girlfriend Anne tell me that her MIL passed away in Vegas and would I watch her twin girls (Ariel & Alexis age 7 and Andrew and I are godparents to Ariel) till Sunday evening when her friend(Janet) was coming in from Florida for a week and said she would take the girls till they came back. With out a second thought I said of course and went to pick them up on Friday evening and bring them home to my house.Before I left my phone rang from one of the bridesmaids to tell me they decided Kerri's bachelorette party was going to be on Saturday night(dinner and bar hopping)I let her know that I couldn't go since Andrew was going to his parents for the day and that my "babysitter" (Rachael) was in Fire Island for a long weekend. On Saturday morning Andrew left with his buddy Steve to bring up the wall unit we didn't was anymore. My house at this point was torn apart, curtains down,all the junk from the wall unit to be sorted and put away, windows to be washed, touch up on the paint, reorganized cabinets, wash floor all in prep for Fridays wedding ,add into this the twins and I was at my wits end. Our phone rang at 7:30 Sunday morning(never a good sign)It was Anne friend (Janet)to say that she threw out her back and wouldn't be able to come to NY.Needless to say, I had the girls till Tuesday. As I was taking them home for the last time and I asked if they had a good time with Aunt Donna & Uncle Andrew they said NO, that we had too many rules and that they never wanted to come back and stay with us. (the rules were making their bed, brushing teeth, no soda before lunch and not to much TV) I know I am a meany.
Ariel is on the left in the striped shirt and Alexis on the right in the plain yellow shirt

Five years ago I was diagnosed with Fibromyalgia, thankfully not life threatening but chronic. It was at its worst during my dads illness and death. The doctors put me on some medicines call Mobic and they helped with the pain, I was told to watch what I eat,and to cut down on the stress in my life.Once I quit my 9-5 job and went back to my first luv(childcare) I started to feel better.That is until a few weeks ago, when I started to have trouble sleeping each night and having aches all over (think flu)and a lingering headache. Some mornings it is so hard just to get out of bed. I am just hoping that once the wedding is over and my life gets back to normal (or as normal as can be for me) the sleep will return and the aches and pain will stop too.
Will post all about the wedding over the weekend if I survive it. I am more nervous about this day then I was at my own walk down the aisle.
As Always Be good & Be Safe
Labels: Life
Saturday, September 15, 2007
Friday, September 14, 2007
LOSING WEIGHT



When I first started this blog it was mainly to document our journey to Aislinn Mariah but with the wait stretching to god know how long I decide to make it more of a blog of our life and what was going on around us as we wait to become first time parents. I decided 11 months ago to rejoin Weight Watchers (OK dragged along kicking and screaming was more like it but that's another story)I went with one of my best friends and for the record here lets state that if she needed to lose 10 pounds that was pushing it. Now I have been on Weight Watchers countless times .The first time I went to a meeting I was 12.Dark church basement, 20 over weight middle aged women (no men back then, we are talking 1975), a scale and a very thin woman leading the group to cheer everyone on. I was dragged there for 5 weeks. I didn't get it then.Next try was was I was a teenager, same setting on 20 young girls (teens) all trying to lose at least a little bit each week.Again I didn't get it but the pattern was set for my life. Go for a few months, drop some weight(most was 40 pounds for my wedding in 1988)and then quit. Never making their goal never being thin.
For over 30 years of my life I have been playing the dieting yo-yo game and its time it STOPPED.
What makes this time any different then the dozen other times I have tried to lose weight? Well first, its not a diet, it a life style change. By changing small things in my life I have watched the scale go down. Some of the things that I have changed are:



Eating what I want in moderation.




Not depriving myself of anything, if I want a piece of Chocolate, glass of soda, piece of birthday cake, I have it, enjoy it and move on.




Plan my meals in advance, make sure I have good choices in the house for me, ( fruits, salad)




Eating 3 meals a day ( I still have a hard time with this on, I am great for drinking coffee all day and not eating anything till dinner)




Give myself permission to be human, to"fall off the wagon" but to get right back up and not beat myself up. Just regroup and start again.




Changing from sugar to sweet & low for my coffee, From white bread to whole grain bread,From mayo to mustard,from soda to flavored seltzer.




And the one biggest change in my life is WATER
This is my new best friend, I was having a hard time drinking all my water, (OK any of my water) and then I found this. Actually I found it in Wal-Mart, their brand of sugar free peach ice tea on the go packets. No sugar, no calories, no caffeine. Now its all I drink, and its true,drinking all that water does make you feel better.


Now the compliments are starting to come in. I have always had a hard time accepting them and this time is no different. Someone asked me if now that Kerri's wedding is almost past would I stop trying to lose these extra pounds. I didn't do this for her wedding, I did it for me! I want to be around a long time for my precious child, I want to be able to get on the ground with her to color and play games, ride bikes with her, kick a soccer ball across the field. I will be one of the older mothers in her class, I don't want to be the heaviest or the unhealthiest.
AS ALWAYS BE GOOD & BE SAFE

Foot note: in case anyone was wondering how much I have lost, it is over 52
pounds, I still have a ga-zillion to go but
"SLOW AND STEADY WINS THE RACE
Labels: Life
Monday, September 10, 2007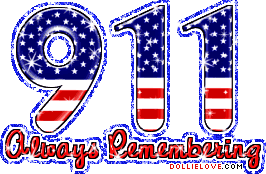 I just received a phone call from my SIL asking if I knew what tomorrow was? I had to think for a moment to see if I forgot something that I should not have ( the memory isn't what it once was)I said to her, "it's 9-11, my mom's birthday is today and Andrew's friend Jim is gone 1 year on Wednesday, How could I forget? How could anyone? My husband and father in law were at the Airport (Andrew @ LaGuardia and FIL @ Kennedy) it was Andrew who called me and told me that a plane had just hit the "tower" I at first thought that he meant the air traffic control tower, it wasn't till he said turn on the Tv that I understood and was on the phone with him as the second plane hit the other tower.It was during this phone call that we both realized how many people we know that where going to be effected. We had family and friends in the towers and surrounding area. Forget? No I will never. I posted
this
a year ago and I say it again"Try to take a moment out of your day and let those in your life know what they mean to you. "
As Always Be Good & Be Safe


Today is Granny Annie's 71st birthday. I call her Granny Annie, because of all the kids that are here day to day. It easier for them and more polite to call her this, then for the munchkins to be calling her Annie or Mrs S.....
As I was trying to find a picture of her to post here I realized that all of the photos I have taken of her with my digital camera all have her wearing her oxygen. She has a slew of health problems, is (suppose to be) on oxygen 24/7 and refuses to give up smoking, we have tried over and over but it like beating a dead horse. She'll take her oxygen off and go outside for a smoke. Her hearing may be shot and for that she has been a target of our humor over the years but thank god she still has great eyesight and enjoys reading. I take her to the Library once a week to check out books for her to read.
She drives us nuts with her antics since my dad has passed but god love her she still thinks of others first (not us her daughters, but her sons-in law, her grandkids, the neighbors). She tells me at least once a week "You know Dee, I don't think I'm going make it till your child comes home from China" I tell her, You'll be here, Daddy just got rid of you and he isn't ready for you to come home yet" She laughs and says "your Right" and we go on but I do think about it often. With the waits growing longer and longer, will Aislinn come home to 3 grandparent or just 2? I'm not sure but for now I am just Thankful that I have had another year with the woman who was my best friend when all my friends hated their mother, she molded me into the woman I am today and the mother I will be.
Happy Birthday Mom, We love you!
As Always Be Good & Be Safe
Labels: Birthdays
Wednesday, September 05, 2007
Today starts my first day back at work, after only working part time all summer and being off for the last 2 weeks. I am so looking forward to getting back into the swing of things.My daily grind will consist of

Circan

(2) 9am-3pm M,W,Th,F(his sister

Meagan

is entering Kindergarten this year so sadly I will only get her if she is sick and can't be in school)

Tommy

(22months)M,W,F 9:30-5:30, in November Tommy's parents are expecting the arrival of their second child so I will not have him during his mom maternity leave but come late January I will have him and the newest member to this gang. Also this year I am going to keep an eye on 2 of my sisters munchkins from 8:15am till 2pm M-F (

Saorla

will be in Kindergarten so Aunt Dee Dee will get her on the bus, take her brother

Seamus

(2) home with me and at 11am pick up their sister

Fianna

(3) from preschool and bring them all back to my house) Also on Thursday afternoons I still have my original gang(

Mckay,Rach,&Connor

) although these 3 no longer need someone to "watch them" they still want me there on "our" afternoon to do what it is we want to do (usually we go to dinner, Starbucks, Shopping (Connor under protest) or just hang out and talk.
On the MIL front, she went home and saw her Dr, he states it was Vertigo and that is why her blood pressure was thru the roof. What he didn't understand was why they didn't take her straight into the ER (rather then have her sit in Chairs for over 2 hrs) and no she doesn't need to see a neurologist. We are just thankful that it wasn't anything more serious and the she is feeling a little better each day.
As Always Be Good & Be Safe
Labels: work
Monday, September 03, 2007
BLOCK PARTY 2007 (What a weekend)
Labor Day weekend is usually a big camping weekend for Andrew and I but this year we didn't go since it was when our Block decided to have their Annual Party. This is the ninth or tenth year that we have had a Shin Dig. Since my fathers passing I participate in the block party with a heavy heart. When my dad was alive he loved the block party, to see all the folks on the block and just spend a day relaxing and catching up with family and friends. We had great weather for the day, Sunny & warm. There was a water slide, arts & crafts for the kids, cotton candy, decorate a cupcake, egg toss, tug a war, bake off, DJ & a 50/50. 15 homes on the block participated, we had about 60 people at our house. A great time was had by all.
Andrew's sister and her family stated with us on Saturday night, his dad had gone back home (upstate) & his mom had gone to Andrew's brother Peter's house to spend the night. On Sunday Morning (as i was making breakfast) we got phone call saying she wasn't feeling well and wanted to go home (upstate, She had stayed because she was going to head back to Maryland with her daughter's family for a few weeks) after a few phone calls it was decided that we shouldn't take a chance with driving 3 hrs (she was dizzy,lightheaded, nauseous and her blood pressure was elevated) so off to the ER we went. ER's are never fun, going to one on a holiday weekend is the pits. Andrew & I, Diana & Mike met Peter & Tina at the hospital. When we first got her there,her blood pressure was 194/92 ("Normal" blood pressure is systolic pressure less than 120/ and diastolic pressure less than 80.) they had no open bed in the ER so out to the chairs she had to wait, after a hour, my BIL had them recheck her BP (180/86 A little lower but still sit in chairs and wait) at this point she is shivering (between nerves and the AC was a tad high) So I asked for a blanket or a sheet to wrap around her and was told, we don't have any. It was another hour before they called her to the back,and only 1 person could go with her. She was in the ER till 11:30 last nite, and we didn't get a straight answer to what happened. They weren't worried about her blood pressure said she was just dehydrated and that she should she her GP and a neurologist. Now is it just me or if nothing is wrong, why does she need to see a neurologist? My FIL came down late last night and they went home this morning as did Andrew's sister and her family.
Happy Labor Day to all!



As Always Be Good & Be Safe
Labels: family