Monday, July 30, 2007
No matter how hard I try, this is how we end up sleeping each and every night.Thank god Misty is a little dog but still. Stew-be will move her every so often to the bottom of the bed but give her a few minutes and she is right between us again. When we got her 2 years ago, we were in the middle of a renovation of the house and our bed was on the floor of the bedroom so it was easy for her to get up and down from the bed. Yes she has her own bed and we have a crate for her also. Misty will only use her bed when she wants nothing to do with anyone and the crate was used for travel but she doesn't like being in it and crys to get out. I know we are going to have to break her of this habit before Aislinn comes home but I have no clue how to do this. Besides how can I say NO to this face............................................
As Always Be Good & Be Safe
Thursday, July 26, 2007
Wow I can't believe how the time is flying! I know at some point time is going to stand still for us and the days, weeks and months will drag but for now its buzzing along

.
This past weekend after I got my copy of HP, We (Andrew, Misty,Conner & myself) went Upstate to see Andrews parents. It was a quick trip there and back but we got alot into the short stay. The boys played wiffle ball, misty ran around the woods like a nut, we played cards, Andrew and Conner went to Zoom Flume, we saw Andrew's Aunt and Uncle for coffee and cake before we headed home. All this in just 36 hours.Mind you I also was able to read the whole H.P book by Monday morning 3am. Now I am rereading it. It was that good!!! Below are some Pics from the weekend.
As Always Be Good & Be Safe


Labels: LID-iversarys
Friday, July 20, 2007
OK so my family thinks I have gone around the bend!
I have loved reading since I was a kid. I can read anywhere. In the car, on the train, on camping trips, upstate at my in-laws or Maryland @ Andrew's sisters. Chances are if you are looking for me, I will be curled up with a book. When the first Harry Potter book came out some years ago I was intrigued with the premise of the book. I picked up my first copy and was hooked by the end of the first chapter. Every time a new book came out I ran down to the local Sam's Club to get my copy and then spend the next few days pouring over it.
So with the release of the last book in the series beginning tonight at midnight what does a mature woman of 40 something do? She stand on line at 9am this morning outside the Local Borders Book Store to get a bracelet. This bracelet will allow me back into the store this evening to get a book at 12:01am.
So I am off to get ready for the festivities this evening, I am bringing my camera because even I can not believe I am doing this. Will blog more about it later when I return.
OK it's 12:30am and I just got home from getting the H.P book. Let me first state that I have worked retail for many years. Opening new stores, Layaway dept at holiday time when its the 23rd of December and the department can't find the layaway with the hot toy of the year , dealing with customer that want that one item that the store never has enough of and may I say I have never dealt with crowds like I did tonight. They handed out bracelets today, 5 colors, orange, green, purple, blue & pink. Now if you had one of these bracelets then you were getting a book after 12:01am. The 150 orange were first, then 150 purple and so on and so forth.I want to say there was well over 700 people in the store. They had a lot of activity's to do from a spelling bee to trivia contest,a costume party to a guess how many Bertie Botts (think Jelly Beans) are in the jar. The "party" started at 9:30. Around 10:45 people started to get nasty. Shoving, screaming, name calling ,staking calms to places in a line where they weren't lining up. Now I don't know what floors me more the fact that this was over a book or the fact that these weren't teenagers or young adults that were nasty but people in their 30's & 40's acting like a bunch of spoiled brats. At one point the crowds were threatening to call the fire Marshall to have the store closed down. I found the whole thing sad. I went to this thing with the son of one of my best friends, Eddie is the one who had put 2 books on reserve, so when I went to get him tonight his mom Jo said to me "I can't believe that you are going to this"to which I replied " don't you remember taking my baby sister and your daughter along with two of her friend to a "New Kids On The Block" Concert and standing in a basement of the Nassau Coliseum for over 2 hours. It was a once in a life experience and something I would never do again. With that said I am off to read my copy of Harry Potter.
As Always Be Good & Be Safe



Labels: Reading
Thursday, July 19, 2007
Where was I when the lights went
out?

Yesterday, Long Island was suppose to have "some rain" and "a few thunder storms". Needless to say that "some rain and thunder storms" turned into a tornado touching down a town over, trees down all over, flooded streets and no power for over 8 hours. Not fun with a 20 month old and a mother who is on oxygen. Tommy thought the rain was fun when we were trying to get into the house and couldn't understand why we couldn't stay outside. Trying to keep a 20 month old entertained with no TV was interesting and worked for the first hour.Thank god he still takes a nap and that helped. After he woke from his nap, the rains and winds stopped and it didn't look like to was going to storm again any minute, I put my sneakers on, put Tommy in the stroller and put Misty on her leash and we went for a walk. We didn't get to far when Misty put her little butt down and refused to walk any farther. So whats a gal to do? Pick her up and put her in the stroller also. She sat with Tommy the whole walk and he had his arm around her. Thank God she gentle with all the kids. When we got back to the house it was time for a fudge pop. My mom was having a melt down that I was allowing him a go at the pop by himself and the mess he was making. He had fun with it and I cleaned him up before his mother came to get him.

Electricity came back on after 5pm and we were able to put the AC back on for my mom (the humidity had kicked on by then) and life went back to normal. When Stew-be got home @ 8pm the first thing I told him was "we need to get a generator'. Between the oxygen machine for my mom ,the freezer, that is full with food and the fridge, a generator is a smart investment.This was just a rain storm, imagine a hurricane? In 1985 when Gloria hit the Island we were without power for 7 days. Now that was an adventure for the first 3 days but by the 4th day we were all longing for a hot shower and a home cooked meal.


As Always Be Good & Be Safe
Labels: Life
Tuesday, July 17, 2007
Today is my middle sisters birthday and although it was 40 years ago ( and my memory isn't what it once was) I do remember the day she was born, my dad coming into my bedroom to wake me for the day and let me know I had a baby sister. Over the years she has been my friend, my confidante, my defender and my drinking buddy. We have had our ups & downs our ins and outs, but thru it all I know that she is always there for me.
Jamie, I hope you have the happiest of birthdays. Aislinn will be truly blessed to have you in her life as her aunt.
As always be Good & Be Safe



Labels: family
Tuesday, July 10, 2007
Five years ago today, my middle sister Jamie gave birth to the first of her 3 Children. Saorla Violet came into the world at 7:38am on a hot Wednesday Morning weighting in at 6lbs 7ozs & 19 1/2 inch's long. My parents had waited a really long time to become Granny & Poppy. Sadly, my dad only had 6 months with Saorla before he passed but those 6 months were pure joy to him.
So to our niece Saorla, Happy Birthday Sweetie! You are such a big girl, a bright and shinning star in all our lives. Uncle Andrew & I love watching you grow, dance on the stage, play soccer and be the greatest big sister to Fianna & Seamus. May all your wishes and dreams come true! We love you!



As always Be Good & Be Safe
Labels: family
Monday, July 09, 2007
The original Desperate Housewives!
One of my favorite pastimes is complaining about my dear husband (just kidding Stew-Be) but no matter where you are, who you are with, what your mood is or how many ladies there are in the group, if one starts complaining about her spouse it never fails that the rest will join in.
Now I am guilty of doing this from time to time, but as I listing to these women I call my friends complain about their spouse, (some much more then others) I wonder are they really unhappy or do they just like complaining? Is this something women (also men)do to pass the time as they are having that cup of coffee or glass of wHine? Or am I just hanging out with the wrong people? I guess it is one of those questions I'll never get answered.
For every one thing I can complain about I can be thankful for two thing he does that are good.
for example: He has never gotten me a cake (18yr married) for my birthday but I will get flowers for no reason & he does all the laundry.Second, His world revolves around bowling(2leagues on two different nights) and so does our social life, if we have plans to go away for the weekend it has to be after bowling Friday evening (1am) but he will bring me coffee (or Ice Cream) when I am working a Saturday night or take the grocery list on a Sunday and go shopping for me. (and never complain) I guess its give and take, the good and the bad.
Congrats to all the families with LID before November 14,2005 on your recent referrals.
Yes to my family and friends I said November 2005, things in China are going really slow and have been for quite awhile. So for my family and Friends the next time I say we wont hear or see anything for well over two years please don't tell me about your________(you fill in the blank) who adopted from ___________ (again fill in the blank)I am happy for them but each adoption is different and I am taking this process day by day, moment by moment step by step.
One last thing Happy Belated birthday to our good friend ENDA. Andrew and I hope that your birthday was as special as you are. Aislinn will be blessed to have you as a "Uncle" .
As always Be Good & Be Safe



Labels: family
Wednesday, July 04, 2007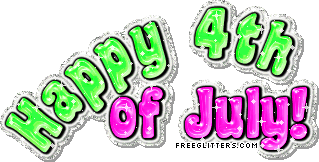 Quiet 4th planned this year. Andrew decided to work instead of taking off. We are usually camping during the holiday. We had a BBQ that we went to last night.When neighbors become friends and then those friends become family the ties that bind us can not be broken.When my parents move into their 1st home back in 65 Sally & Bill were the first people they met. Over the year our blended families took vacations together, went on fishing trips, holiday dinners, camp outs in the backyard and trips to the amusement parks. 4 adults and 9 kids. The youngest of the Squit Clan hosted the BBQ. Thank you to Krissy and family for opening their doors year after year for a really great evening with our oldest friends. I hope that everyone has a safe 4th of July!
As Always Be Good & Be Safe
Labels: HolidaysHolidays
Tuesday, July 03, 2007
Create your own at BlingyBlob.com
With the wait increasing as the days go by I spend a lot of time, thinking, dreaming and wondering. Thinking about the changes this child is going to bring to us, our lives and our world. All good changes I believe but changes never less. Dreaming of a land far away, a land of our child's birth and heritage and Wondering, how long when all is said and done we will have waited. Again all worth it but torture while going thru it.
I have also been thinking about a custom in Chinese adoption. Now for my family and friends, To welcome and celebrate a new life, there is a tradition in the northern part of China to make a Bai Jia Bei, or "100 Good Wishes Quilt." It is a custom to invite 100 people to contribute a single square patch of cloth. The 100 patches are sewn together into a quilt that contains the luck, energy, and good wishes from all the family and friends who contributed a piece of fabric. The quilt is then passed down from generation to generation. When we first started this journey and I thought about having a quilt made, I called Andrew godmother, who can and does do everything but doesn't quilt. She did tell me that cousin Diane, (Andrew's cousins wife) quilts beautifully. So the next time I spoke to her I told her all about the adoption & the custom of the quilt. "Of course was her response, just let me know what you need" But for some reason, I am not sure I want to have one made and I don't know why. Stupid I know, but with the wait I know I have time to decide.
The other thing that I have been thinking about is my hair. I was letting my hair grow for my sister Kerri Ann's wedding (I'm the maid of honour) and then I planned on getting it chopped short right after. Right now it is below my shoulder blades. I was reading a favorite blog of mine and was inspired as to what Melissa did.
She cut her hair off and is donating it to
locks of love

.
I thought WOW that is a great thing to do, I have know people who have done it before but I thought that your hair couldn't be color treated( not that mine is LOL), it can be and still donated. So the little hamster in my brain went into over time on his wheel. What I am thinking of doing, is not cutting my hair in October but letting it grow and leave it grow till Aislinn come home from China and once that happens then cut it and donate to Locks of love.
Told ya its not good when I think!!!!
As Always Be Good & Be Safe
.
Labels: Thinking