Monday, December 31, 2007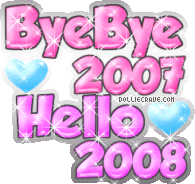 As the last hours of 2007 tick by I wanted to take a moment to think of what has happened in our lives during this past year. We've had births and deaths,
a family wedding
, good times and bad. I have made some new friends (some of them thru this adoption journey) and lost a bit of weigh but the happiest moments of the year came when we mailed off our dossier and received word that we were logged in with China for our Child.
Labels: Holidays
Saturday, December 29, 2007
14 years ago a little"Stinkerbell" entered our lives and thing have not been the same. Rachie has gone from a sweet chubby cheek baby to an inquisitive little girl to an independent young lady full of poise and confidences.She is a good student, captain of her field hockey team, never one afraid to try something different. I am blessed to have this child in my life. Rachael you have brought so much to my world and you deserve the best.I want you to know that we will always be here for you. Always remember to follow your heart. I love you Stinkerbell.

As Always Be Good & Be Safe
Labels: Birthdays
Wednesday, December 26, 2007

We are off to Andrew's sister's for a couple of days, Here are a few Picture of our family's Christmas.
Another Christmas is gone.Happy kids, happy families. Everyone loved their presents.As always my heart ached for the child that isn't with us celebrating this wonderful season. Today we are logged in 8 months with China.Time does seem to be going quickly but then again didn't I just graduate from High School last year? Why is it that when we were younger time seems to drag, but as we (or at least I) get older time seems to fly by? I can't believe McKay is graduating this year from High School, that Rach is going to be 14, Connor is in middle school, Michael is driving, Matthew is going to Hawaii for spring break with his school. Wasn't it just yesterday that they were all in diapers, climbing up on my lap to read a book or watch a tape?
Oh and one more thing,Stew-Be got for me (but it will going to Aislinn) a precious Moments doll, Its name is Peace & Harmony. Isn't she cute?

As Always Be Good & Be Safe



Tuesday, December 25, 2007
We hope that this holiday season is full of loved ones, peaceful days and May the Spirit of the Holidays warm your heart and home. Wishing you and your whole family the gift of faith, the blessing of hope and the peace of his love at Christmas and always.



As Always Be Good & Be Safe



Labels: Holidays
Saturday, December 22, 2007
I'm on Vacation till the 3rd of January(Yahoo!!)and really plan on doing NOTHING on my vacation.Stew-Be is on vacation too so we will pop down to his sister for a couple of days. I am so glad that the presents are all wrapped(finally) making more cookies with the kids tomorrow(they were all such a big hit last week)and I'm not cooking dinner for Christmas (just dessert) So from our family to yours

H

a

p

p

y

H

o

l

i

d

a

y

s

Christmas Glitter Graphics
Our Holiday card this year (hopefully Aislinn will be on one in the "near" future)

As Always Be Good & Be Safe
Thursday, December 20, 2007
Busy Holiday times here on the Island. Between the kids holiday concerts, parties,cooking,buying gifts, wrapping & still not feeling 100% I'm wrecked
.
One of the blogs that I read all the time put out a "Christmas Tree Challenge " to show off your tree. Of course I'm a little behind on things but here is our tree and some of my favorite ornaments.

Not
our best tree by far,
The year Andrew & I got married that Christmas everyone gave us an ornament.

This Ornament (not sure where we got it) reminds me of my childhood and all the ornaments that my mother had wrapped in tissue paper. The fragile glass ornaments from Christmas past that to this day I can still hear my mom telling me to be careful as I unwrap
them.
One of the many "Irish ornaments" I have collected over the years.
Our First "baby" Milo. Only dog I know who "unwrapped" a box of Christmas chocolate and didn't get sick.
I wrapped this ornament up and had Stew-Be open it. The card read "To Daddy,Have faith and...... Love Aislinn

This is our newest ornament.I had planned on getting it all season but never got to the Hallmark store. Last week I participated in a Secret Santa with the LAOH. $10. gift cards was what was exchanged. I lucked out and pulled a Hallmark gift card.So a big thank you goes to the person who put the card in( Thanks Nik). The next day I ran to Hallmark and got the last one in the store.

As Always Be Good & Be Safe
Labels: Holidays
Sunday, December 16, 2007
Story of my life..................
Aquarius (January 20 - February 18) You're not going to be able to finish much of anything today -- though you'll still get plenty done! It's too easy to get sidetracked or distracted by other people or projects in the middle of other stuff.
This was my horoscope for today (Sunday). Its been a busy weekend.Lots of things started but nothing finished but then again I feel this is the story of my life Friday I spent most of the day and all night making cookies. My Sisters Jamie & Kerri came over to bake with me and to raise a glass in honor of what would of been our dad's 74th birthday. I made
Stuffed Pizza
for dinner and homemade
Bailey*s.
It was a shame that I couldn't taste anything. I
am all clogged again with a sinus infection. My question is
"if
you can't taste what you eat... do the calories count"?
Saturday, Andrew and I decorated our tree and had our friends Steve & Denise over for dinner.Tonight, Enda, Siobhan & the kids are coming for dinner. It's 3pm, dinner isn't started, I haven't showered, Christmas card are only half way done. Our Cards this year are a photo of Misty and then of course I decided to add a letter to our family and friend to invite them to participate in our 100 good wishes quilt for Aislinn ( I decided to have one made). When I get a chance I will post picture of the weekend and our tree.
As always Be Good & Be Safe

Labels: weekends
Monday, December 10, 2007
Stew-Be is safe for another year from Rudolph

We returned late last night and another year of hunting has gone by the wayside.They (beavis &butt-head) saw rabbit, squirrels and wild turkeys but no deer. So the deer of Upstate New York are safe for Season.
As Always Be Good & Be Safe
Labels: Hunting
Friday, December 07, 2007
Lately when I recieve an email from someone and they want me to "pass it on" before I even think about hitting the forward button I check it out with SNOPES.....
So when the following came into my in box I checked it
out
I remember this commerical being played and I thought it was simply beautiful.

As Alway Be Good & Be Safe
Thursday, December 06, 2007
This weekend We are heading North


Andrew & his friend Steve are going hunting. These two have been friends since elementary school, getting into trouble along the way and still getting up to no go when they are together.





Now to say they are "hunting" is overstating what they are doing. They Dress for hunting( long johns, boots, red flannel hats, jackets, )get their guns all ready, flask filled with "wutever", put the cell phone on "vibrate" & off they go for hours on end. Never coming back with anything (thank god) more then a running nose, never see anything (we see more deer here by our house then they see in the woods where they go) but enjoy a day of hiking in the cold. This year Butt head(Steve) said they should leave the guns home and just walk the woods.
While the boys are hunting, We( Denise, MIL & Myself) are hunting too. Hunting for the true bargains on our Christmas shopping. This year I am almost done with my shopping (they are hunting a week later then normal) so I won't be coming home with as many packages.
We are also going to get our Christmas tree this weekend. For the last few year when we have gone Upstate for hunting we have also cut down our own tree. I can't wait to get our tree and start decorating it.
As Always Be Good & Be Safe

Labels: Hunting

| posted by Unknown at 9:41 AM