Sunday, April 26, 2009
2
Years.... that's a long time and alot has happened. At times I think of giving up but I won't.
Today also marks the 30th passing of my grandmother. Grandma was my only grandparent (dad's parents passed before I was born & mom's dad passed when I was 4) She lived in NYC right in the heart of Manhattan on 2nd ave. When most kids from the city were coming out to the Island for a few weeks during the summer, I was heading into Manhattan to spend a few weeks with Grandma & my Godmother. Many cherished memories of walking thru the city, visiting the church's in the area, going to Central Park to the playground and riding the carousel.
This afternoon Andrew & are in heading into Manhattan to attend a memorial mass for her and have some dinner with my godmother & cousins. The photo below is of my grandmother and I from the last 60's (yea I am dating myself) I believe taken @ the East River Park.


As Always Be Good & Be Safe
Labels: LID-iversary
Friday, April 17, 2009
OMG Can it be true?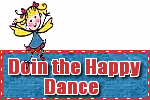 Dear April 2007 LID Families,
Congratulations! We received word from our Beijing office that the CCAA has finished the review of dossiers registered in April, 2007!
Yeah April 2007 is finally out of review!!!!!! Congratulations to all of you .
One step closer to our dream.
As Always Be Good & Be Safe
Sunday, April 12, 2009
Happy Easter
As Always Be Good & Be
Safe

Labels: Easter
Friday, April 10, 2009
One step at a time

Its been two months since I've gently held her hand while sitting at her bedside , 59 day since I heard her say my name, 1416 hours since I watched her slip away into the night. At times I think it was all a dream. I still cant believe she is gone. Life has gone on for those around me and I am still trying to find my footing. There is still anger, regret & fear but the sleeplessness has ended and the nightmares have subsided.
I still haven't finished cleaning out moms apt. At times it is still hard to see some of her stuff. Its the little things like, her note pad on the kitchen table with page after page of when(time & date) she took her medicine. While going thru her clothing finding in at least a dozen different jackets or anything with a pocket, three quarters and a piece of paper with Jamie, Kerri Ann & my phone numbers.
For now I am still taking it one step at a time.
As Always Be Good & Be Safe
Labels: Life