Saturday, June 11, 2011
Busy Busy Busy
I can't believe we just passed our three month anniversary since we got Aislinn. The changes we see in her everyday is a joy. She is getting more comfortable everyday in the things she does. When we got her she couldn't stand on her own & now she walks all over, climbing up & down the stairs, onto the couch & sitting on the windowsill to watch outside. She continues to sleep really well & eats everything we put in front of her. Her verbal skills are still limited but she is understanding a lot of what we say & communicates to us what she wants.

We went camping Memorial day weekend for 5 days (it was also Andrew's birthday). We headed up to Andrews parents on the Wednesday night. On Thursday I ran to W*lm*art fr a few things for the chipmunk, Andrew hooked up our trailer then we were off to Steve & Denise's. We were only there about 30 minutes when huge storm blew thru.So as its pouring rain & the wind is whipping I am in the trailer with Aislinn , Misty & Andrew's parents while Stew-Be is outside still trying to get things set up! After about 20 minutes the rain stopped & the sun came out. I quickly baked a cake for his birthday & we sat out under the stars. I was just about to bring Aislinn in to the trailer for the night when a neighbor of Steve's came over to see ow everyone was & mentioned that the area was under a tornado watch! Well that's all my mother in law had to hear! We all were just settled in the trailer when the winds started to really pick up. Maria grabbed the table & sorry to say all I could do was laugh. The storm lasted a couple of hours & we finally all got some sleep. The outlaws left the next morning but not before Aislinn got her first ride on a quad. Aislinn loved camping & got more adventurous everyday!




Aislinn got to meet alot of Andrew's family at his Aunt Virginia's golden jubilee. Aislinn was really good during the mass (Thank god for Cheerios) & was the center of attention @ the luncheon.

Its all about the cake!
Aunt Virginia thanking everyone
Aislinn started school this past week. I have been on the fence about this but I do know that it is what is best for her. We have a lot of catching up to do with her. Its a 5 day a week 1/2 program. She will have OT, PT & speech. Last week I went to the school for a walk thru & met her teacher, the nurse Ot & pt therapist. Everyone seem excited about Aislinn coming in. The Bus pick her up on Monday a little after 12 & she was home a bit before 4pm.She is tired after school but seems to enjoy it. They spent the week giving her a chance to explore her new surrounding but all in all her report has been positive.
On the bus for the 1st time
All set to go
We are in Maryland for our nephew Matthew graduation party & 18th birthday tomorrow. Aislinn was in the pool today for the 1st time & loved it!

As Always Be Good & Be Safe

| posted by Donna Mangia at 9:09 PM

This is an account of our lifes as we head down the path of life towards our first child. An invisible red thread connects those who are destined to meet, regardless of time, place, or circumstance. The thread may stretch or tangle, but will never break." --An ancient Chinese belief
About Me
Name: Donna Mangia
CURRENT ADOPTION STATUS

-
Get Your Own
Girly Comments & Graphics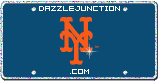 Myspace Comments
@
DazzleJunction.com
Myspace Comments
@
DazzleJunction.com
Girly Comments & Graphics

scroll down to bottom of the page and click on the stop button to turn off the music
My Blog was Blinged by: Sara Lane