Monday, June 18, 2007
As you can tell by my last post, I am still trying to figure out this computer. The post came as one big quote, and as many times as I tried changing it I couldn't get any thing to work. Could it be me? Nahhh, I doubt it! Could it be blogger? Maybe but I don't think so. Can't blame Andrew, He hates computers and refuses to use one. So that only leaves this new computer. Its always the new thing that's to blame.
O'well hopefully I will conquer this beast! LOL
The Visual DNA below came to me in a email from a friend.I thought it was really interesting and figured I would share it.

As Always Be Good & Be Safe

| posted by Donna Mangia at 7:02 PM

This is an account of our lifes as we head down the path of life towards our first child. An invisible red thread connects those who are destined to meet, regardless of time, place, or circumstance. The thread may stretch or tangle, but will never break." --An ancient Chinese belief
About Me
Name: Donna Mangia
CURRENT ADOPTION STATUS

-
Get Your Own
Girly Comments & Graphics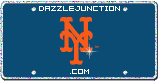 Myspace Comments
@
DazzleJunction.com
Myspace Comments
@
DazzleJunction.com
Girly Comments & Graphics

scroll down to bottom of the page and click on the stop button to turn off the music
My Blog was Blinged by: Sara Lane