Tuesday, May 29, 2007
Wow I can't believe that a month has passed!
Andrew and I were camping this past weekend and as we were sitting around on Saturday night and talking I realized what the day was and said to Stew-Be
Happy Anniversary One down and who know how many more to go.
That went quick, now I hope the rest of the time flies by( I know it won't by a gal can hope!)
On the camping front it was a good relaxing weekend. We left on Thursday night and drove to hubby's parents and spent the night.Hooked up our trailer and left on Friday AM. Our friends Steve & Denise were already at the camp ground. After setting up we went food shopping (I usually bring everything from home,but didn't this time)and then relaxed for the night. Saturday was a great day cause I did NOTHING!!!!The Boys went fishing, played horseshoes and hiked thru the woods.Denise and I sat and chatted then I read a book and got some sun while Denise made some jewelry. On Sunday we heading South(about 40 minutes) to my in laws. Of course no camping trip is complete with out Sauce on Sunday.Dinner was great and a birthday cake was had for Andrew.Sunday evening was a washout with the weather. When we got back to the campground it started to rain. Now I love a good rainstorm.Thunder,lighting & rain but even I got nervous, two little shih tzu in a trailer with loud sounds all around,mud everywhere & a lake that is getting closer to the trailer by the hour.All in all it was a good birthday for Andrew and a good weekend.

As Always Be Good and Be Safe

| posted by Donna Mangia at 2:32 PM

This is an account of our lifes as we head down the path of life towards our first child. An invisible red thread connects those who are destined to meet, regardless of time, place, or circumstance. The thread may stretch or tangle, but will never break." --An ancient Chinese belief
About Me
Name: Donna Mangia
CURRENT ADOPTION STATUS

-
Get Your Own
Girly Comments & Graphics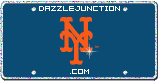 Myspace Comments
@
DazzleJunction.com
Myspace Comments
@
DazzleJunction.com
Girly Comments & Graphics

scroll down to bottom of the page and click on the stop button to turn off the music
My Blog was Blinged by: Sara Lane