Friday, April 20, 2007
Congratulations, your dossier is being mailed to China today!!
Those 9 words are the Sweetest words I have ever read. It has been a really long journey to this point, We went to our first GWCA information meeting on Feb 4,2006 sent our application in to Great Wall in March, had our first homestudy appointment on June 5,2006 hit some major bumps in the road but we made it!
Now we WAIT!How long? No Clue. But this is ok! For I know at the end of this road there is a child waiting for us to come and get her. A little girl who will call us Mommy & Daddy!

AS ALWAYS BE GOOD & BE SAFE
Labels: Adoption

| posted by Donna Mangia at 3:48 PM

This is an account of our lifes as we head down the path of life towards our first child. An invisible red thread connects those who are destined to meet, regardless of time, place, or circumstance. The thread may stretch or tangle, but will never break." --An ancient Chinese belief
About Me
Name: Donna Mangia
CURRENT ADOPTION STATUS

-
Get Your Own
Girly Comments & Graphics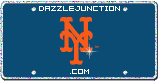 Myspace Comments
@
DazzleJunction.com
Myspace Comments
@
DazzleJunction.com
Girly Comments & Graphics

scroll down to bottom of the page and click on the stop button to turn off the music
My Blog was Blinged by: Sara Lane