Saturday, December 13, 2008
I am so behind
Kerri Ann & Pete had Carleigh Christened on Sunday November 9th at the church that they got married with a party afterwards at the firehouse that Pete is a member. There were 5 other babies beside Carleigh that were christened. The Ceremony was beautiful, Father Jack a little long winded but Carleigh was a perfect Angel through out the day. It was nice to see family and friends for such a happy occassion.

And just because she is so cute and sweet.......

sitting with Misty

Uncle Andrew had just gotten home from hunting and once again Bambi & friends are safe from him!

As Always Be Good & Be Safe
Labels: family

| posted by Donna Mangia at 3:07 PM

This is an account of our lifes as we head down the path of life towards our first child. An invisible red thread connects those who are destined to meet, regardless of time, place, or circumstance. The thread may stretch or tangle, but will never break." --An ancient Chinese belief
About Me
Name: Donna Mangia
CURRENT ADOPTION STATUS

-
Get Your Own
Girly Comments & Graphics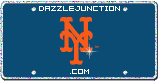 Myspace Comments
@
DazzleJunction.com
Myspace Comments
@
DazzleJunction.com
Girly Comments & Graphics

scroll down to bottom of the page and click on the stop button to turn off the music
My Blog was Blinged by: Sara Lane