Sunday, March 13, 2011
One week as a family
I can't
believe that we are a FAMILY 1 week already.Each day, like a flower, Aislinn opens up a little bit more. Some of the things we learned this week about her are:
She LOVES to eat. No matter what it is. Grandma is going to have to put extra pastas in the pot on Sunday!~ She is a great sleeper. No clue if this will continue when we get home but as of right now she goes down a little after 7pm & sleeps to almost 7am (the other day it was till almost 8am) plus she takes a nap~ OK I know I just jinxed myself!~ She is stubborn when she wants to be~ her smile lights up the room~She is very flexible & she loves her fingers.But most of all We learned this week how much of a daddy's girl she is going to be. Speaking of her daddy I do have to say Andrew has taken to parenthood like a duck to water. Before we came to China, everyone said I would have troubles with Andrew. That after 23 years of it being just the two of us he would have a hard time adjusting. Well from the first moment she has preferred Andrew (I'm just the wicked witch of the east who happens to be in her life) and
he has fed, changed, bathe, played,taken for walks (without me) without a second thought & he does it like a natural.
Labels: White Swan

| posted by Donna Mangia at 8:05 AM

This is an account of our lifes as we head down the path of life towards our first child. An invisible red thread connects those who are destined to meet, regardless of time, place, or circumstance. The thread may stretch or tangle, but will never break." --An ancient Chinese belief
About Me
Name: Donna Mangia
CURRENT ADOPTION STATUS

-
Get Your Own
Girly Comments & Graphics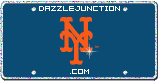 Myspace Comments
@
DazzleJunction.com
Myspace Comments
@
DazzleJunction.com
Girly Comments & Graphics

scroll down to bottom of the page and click on the stop button to turn off the music
My Blog was Blinged by: Sara Lane